What Does Nail Surgery Involve?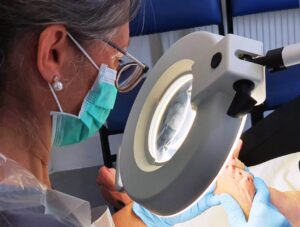 With an ingrown toenail, even putting your shoes on can seem like a challenge. After all, ingrown toenails aren't just discomforting - they can also lead to a nasty infection if left untreated. That's why it's highly important to seek effective ingrown toenail treatment as soon as the problem develops, making sure you choose a trusted chiropody clinic to find the right solution for you. At Torbay Footcare, we're proud to offer a range of different treatments, including ingrown toenail surgery, to our valued customers in Paignton and Torquay, and go above and beyond to provide tailored treatments in every case.
To learn more about what is involved in nail surgery and whether it is right for you, contact or visit our clinic.
Specialist Ingrown Toenail Surgery in Paignton
Think you need ingrown toenail surgery? Paignton based Torbay Footcare has you covered. Torbay Footcare are a team of ingrowing toenail specialists who are dedicated to providing only the best medical solutions to any medical problem that you may have with your feet. Each member of our highly trained staff are specialists in the field of ingrown toenail surgery and have the knowledge and the skill to heal your troublesome and uncomfortable condition. If you're searching for effective and reliable ingrown toenail treatment, covering Torquay and Paignton, Torbay Footcare is the company for you.
What does nail surgery involve?
Toenail surgery with Torbay Footcare typically takes approximately 60 minutes.
Our procedure includes:
Entirely numbing the toe with medication
Taking out the ingrowing part of the nail
Caring for the nail bed
After our medical procedure, the maximum amount of nail is left on the toe minus the curved section that was causing the condition. In the vast majority of cases, our medical treatment will stop this problem occurring again.
Caring for your toe after surgery
Once the nail surgery has been completed, a large dressing will be applied to your toe for the first day or two. Keeping your foot elevated and rested, especially in the first few hours after the procedure, is advised. Whilst the pain should be minimal, you can take painkillers to help with any discomfort.
Follow-up appointments will be required to re-dress your toe*. Bathing your toe with salt water on a daily basis and applying a dry, sterile dressing will help to ensure it properly heals.
*Three 15-minute appointments are normally required following nail surgery.
Fabulous feet following nail surgery
Where necessary, the procedure can be applied to one or both sides of the nail, or in more severe cases, the whole nail can be painlessly removed. Concerned about the appearance of your toe following nail surgery?
For more information about our range of foot treatments, contact Torbay Footcare in Paignton.
Appointments are available Monday to Saturday between 9am and 1pm and from 2pm to 5pm (7pm on Mondays, Saturday mornings only currently).