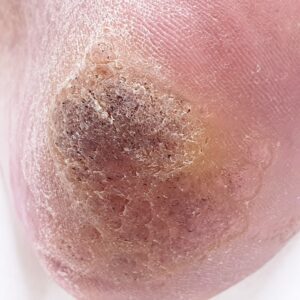 The damp conditions of swimming pools and changing rooms make the perfect breeding ground for verrucas. If you or someone you know is prone to recurring verruca issues, verruca needling could be the answer to their problems.
Make this common skin infection a thing of the past and book an appointment with Torbay Footcare in Paignton.
A simple, effective treatment for verrucas
A verruca is a skin infection that can be uncomfortable, particularly on the heel of the foot. Thriving in damp conditions, verrucas are most commonly found on toes and the soles of feet. Whilst over-the-counter verruca treatments can be used to help with the infection, the results can be poor when the area is badly affected.
For a more effective treatment, choose verruca needling; a minor procedure now available at the Torbay Footcare clinic in Paignton.
How does verruca needling work?
Verruca needling is a simple, yet effective procedure that uses the virus against itself. Using a local anaesthetic to numb the infected area, your podiatrist will then use a fine needle to puncture the verruca multiple times.
During the needling process, infected cells are carried through to the deeper layers of skin. This is specifically done to produce an immune response so that the verruca virus is destroyed.
Prone to verrucas?
Torbay Footcare specialises in effective verruca treatments, including verruca needling and cryotherapy. Contact our clinic in Paignton, Devon, and book an appointment today.
Call 01803 521 880