Top Tips for Looking After Diabetic Feet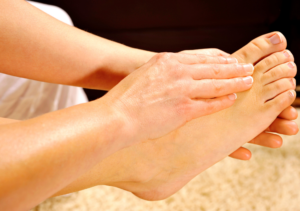 Diabetes is a metabolic disease which can damage the circulation and the nerves in your feet, you could injure yourself without realising.
Wash feet daily with warm water and mild soap. Dry well making sure you dry well between your toes.
Inspect your feet daily, look out for anything out of the ordinary such as cuts and grazes. If you spot any breaks in the skin and any signs of infection, redness and swelling the area may be hot and there may be pain although if you have neuropathy, you may not have pain.
Keep the skin well moisturised, CCS Flexitol and Dermatonics are ranges of foot cream we stock that are suitable for diabetic feet.
Make sure shoes and socks have plenty of room shoes should have a fastening to loosen if your feet swell. Socks shouldn't leave a mark on your legs and should be seamless over the toes. See our range of Softop Socks.
Make sure you get your annual foot check our Torbay Footcare Podiatrists can do this for you and pass the information onto your practice if you wish.
Don't use anything sharp on your feet, that includes razor blades, ped eggs, anything sharp to remove hard skin.
Don't use medicated corn plasters, these contain a strong acid which will burn through your skin.
Don't walk around bare foot especially if you have lost the feeling in your feet.
Don't wear tight shoes, make sure there is at least a quarter inch of space in front of your longest toe.
Don't use hot water bottles on your feet or toast your feet in front of the fire.
Don't use strong disinfectants, these will dry your skin causing tiny cracks.
Don't smoke, smoking further compromises the circulation in your feet and will further delay the healing of wounds.
Don't ignore any problems, seek medical advice.