Warts & Verrucas – What are they and how do I get rid of them?
Nina takes time out to discuss the identification and treatment of warts and verrucas, including a round up of traditional remedies and a look at the very latest in podiatric technology for solving this age old problem.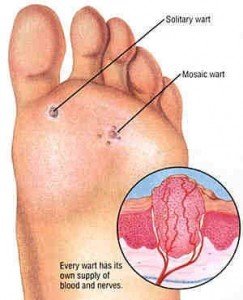 WHAT ARE WARTS AND VERRUCAS?
Verrucas are the same as warts, nobody knows why we call them verrucas on feet and warts elsewhere on the body.
Warts are a viral infection of the epidermis which is your outer most layer of skin, they form little lumps which look a bit like cauliflowers. On the soles of the feet they get pushed in as we walk on them, we then produce hard skin as our body tries to protect itself, this can be very painful especially if it is on a major weight bearing area.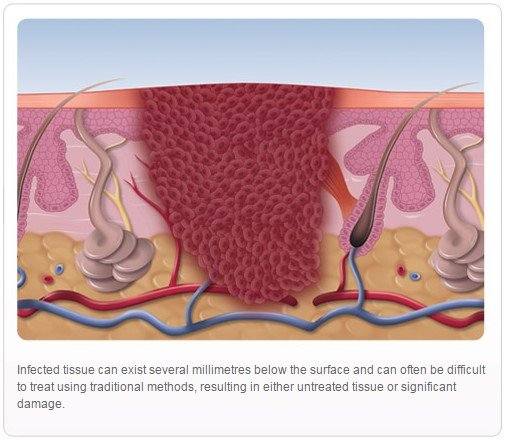 There are no guaranteed methods of getting rid of warts and verrucas and as they are harmless the NHS will no longer treat them.
CAN I DO ANYTHING TO TREAT THEM AT HOME?
Yes, you can, there are lots of home remedies, some people call them 'Old Wives Tales' which you can try.
Method 1.
Warts can disappear of their own accord given sufficient time, usually 18 months to 2 years, but some people keep their warts for many many years.
Method 2.
Banana skin! You can cut a piece of banana skin and place it over the wart securing it with a plaster do this every night for 2 weeks. This can be a bit messy but, beware of banana juice getting on your sheets it will stain them dark brown.
Method 3.
Garlic? Yes, garlic is known for its healing properties. Secure a small sliver of garlic with a plaster over the wart change it daily use for a month, if you can stand the smell. Very effective but people will be able to smell you coming around the corner!
Method 4.
Why not try the Butcher's remedy, rub the wart with a piece of meat then bury it in the garden. The theory is as the meat rots so does the wart!
Method 5.
Find a witch to charm them away! Get a friend or relative to buy them of you 
Method 6.
Duct Tape might work! ... a study published in American Family Physician in 1996 said if you cover the wart or verruca with duct tape 60% will be gone in 4 weeks and 80% in 8 weeks, nobody has ever been able to reproduce these numbers, it was trailed on Trust me I'm a Doctor on the BBC recently, here's how to do it…
The first step is to cut a piece of duct tape roughly the same size as your wart. Then stick it on top and keep it on for six days. If it falls off, cut and stick on a new piece.
On the morning of the 7th day, take off the duct tape, soak the wart in warm water and file off the dead skin with a pumice stone or emery board. Then leave the duct tape off for the rest of the day and night and reapply it the following morning. If you have trouble keeping the tape on, try sticking a plaster over the top of the duct tape.
Keep doing this for four weeks. The key is to keep the tape on your wart for six days at a time, followed by a break of one day. And every time the tape is taken off, remember to file away the dead skin from the surface.
... and there are many more traditional remedies all with varying success rates ...
IF I WANT THEM REMOVED PROFESSIONALLY WHO SHOULD I SEE AND WHAT SHOULD I ASK FOR?
Here at Torbay Footcare we love taking care of your feet, Nina has been treating warts since 1980 she spent 12 years at Torbay hospital taking referrals for warts and verrucas that even the dermatologist couldn't cure.
She has all of the best treatments available to the modern podiatrist and has recently invested in Swift Microwave, the latest verruca treatment which has been developed by a UK company and has a soon to be published clinical trial conducted by the highly respected Professor Dr Ivan Bristow.
This is what they said about this treatment in a recent Daily Mail article……..
STUBBORN VERRUCA? FRY IT WITH MICROWAVES; SCIENTISTS SAY TECHNIQUE IS FAR MORE EFFECTIVE THAN BURNING THEM WITH ACID OR FREEZING THEM WITH LIQUID NITROGEN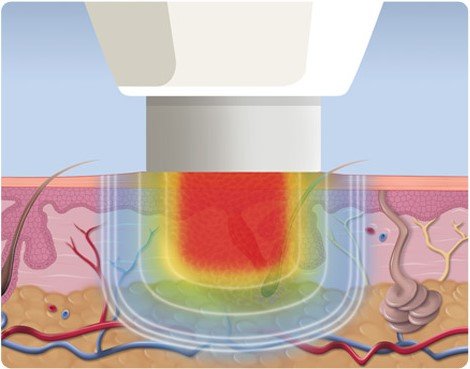 British Scientists have hailed a new method of getting rid of stubborn verrucas – by zapping them with microwaves.
They say the technique is far more effective than traditional methods, such as burning them with acid and freezing them with liquid nitrogen and have achieved a success rate of more than 75 per cent.
They also say that the microwave beams can destroy verrucas which have troubled their hosts for decades.

The new treatment involves blasting the troublesome areas with a beam of microwave energy for five seconds at a time. Three treatments spaced out over monthly intervals are usually enough to see them disappear, said Dr Ivan Bristow a podiatrist who has helped to pioneer the technique.
He explained how the narrow beams of microwave energy heated the verruca to 70C 'creating cell damage which brings about inflammation in the tissue.' 'We believe that this makes the body's immune system spring into life, so that it recognises that it has to fight an infection,' he said. 'So it's not so much that the microwaves destroy the wart but that it triggers the body to fight it.'
Dr Bristow said that patients did experience a 'hard bite' of pain for 2 or 3 seconds as the verruca heated up – but any discomfort soon disappeared.
The technique is the brain child of Scottish physicists Gary Beale and Eamon McErlean. They have since set up a company called Emblation, which develops microwave generators for medical purposes.
SOUNDS GOOD ... SO WHAT DO I DO NEXT?
Ring the surgery to make an appointment to see one of our podiatrists. We can tailor our treatment to suit you.
Phone us on 01803 521880 ... ring now even if it's out of hours, leave us a message and we'll get back to you.